Melda Zhang: Bringing Indonesian Coffee to Vietnam
Coffee sends an Indonesian woman on an adventure. Melda Zhang never thought that she will become a coffee roaster in a foreign country, introducing Indonesian beans to each guests at her coffee shop.
Long before specialty coffee enters mainstream culture in many countries, Melda Zhang and her colleagues are coffee addicts who love to enjoy a variety of coffees. Falling in love with coffee after visiting Takengon, in Central Aceh, her sharp instinct sees opportunities ahead and brings this woman from Sigli to venture out of Indonesia. "Initially, I saw that coffee can make a great business potential. Especially Indonesia, which has such rich potentials for quality beans. I saw an opportunity to sell Indonesian beans. In the end, this coffee brought me to Vietnam to start my career there."
Two to three years ago, Melda Zhang and his colleague Nhi Hoang only want to make a coffee corner and a homestay in Da Nang, Viet Nam Tengah. The city is full of tourists and she takes this opportunity. Who would have thought that the coffee corner in this narrow alley will gain fame. Not only known at Da Nang, but the whole Viet Nam.
She finally opens a large coffee shop right in front of the Han River. An area full of strategic tourists, under the name Cong Kopi, Melda spreads the love for Indonesian Coffee. "Our Gayo coffee is one of the best-selling coffee here. The Gayo I got has magical notes like floral, complex citrus and fruits. Don't assume that Gayo can only give chocolate and caramel flavor." If you find good Gayo beans and roast them well, then it will taste miraculous," said Melda passionately.
Meeting the Roasting Master
My work in the roasting business won't happen without the help of Ji Yong Hong, a master roaster from Korea, whom we fondly call GD. One day, he came to visit my first coffee corner. Because the place is small, everyone makes friends easily. And indeed, our coffee corner is where a lot of friendships begin.
We told GD that we want to open a coffee shop and intend to roast our own coffee. At that time, it didn't occur to me that I would roast coffee. "I just thought, okay, I would buy a roasting machine and maybe GD would help me or I'll learn from him. And that's what happened: the roaster stayed to teach me. I've learned the basic theory of roasting from the internet and groups on Facebook, but with GD's guidance, everything is much easier and makes much more sense. Until now, we are in a close contact and he remains to be my greatest teacher," said Melda.
Crafting the Beans
Before crafting the character of roasted beans, learning the transformation of green beans into brownish coffee beans, as well as the aroma and taste created by the manipulation of heat, is a must. Roasting is like cooking; you have to know when to stir, when to reduce or raise the heat.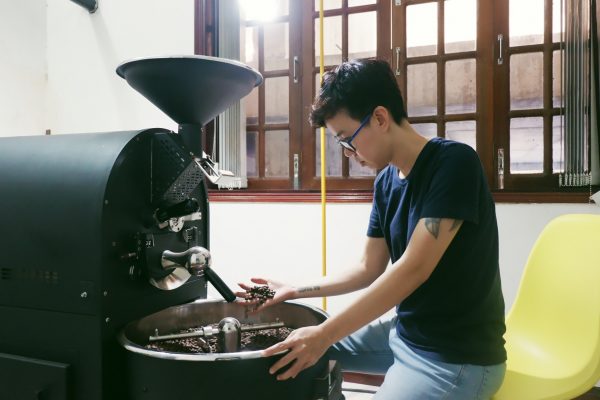 When we have better understanding of how heat affects the coffee beans we roast, we will notice how different beans, regions, and altitudes, require different profiles. Melda continues:
Of course, in the beginning, we learn about the relationship between heat and the characteristic of the beans. We had had under-develop coffee beans, charred coffee beans. Why? Because we were very focused on theories. In fact, the theory must be adapted to different conditions, including the green beans' as well. So we slowly learned, and we carefully recorded and studied everything about roasting. In addition to that, we did several trials and consultations with GD, and we can finally understand better how to craft a good cup of coffee.
Viet Nam versus Indonesian Coffee
Talking about coffee in two countries won't be exciting if you don't ask how their coffee differs. Melda says that Vietnam doesn't have as many arabica coffee as Indonesia. In general, there is only one type of arabica here, which grows in the mountains in South Viet Nam, Dalat Province. Coffee from this region is famous for its clean cup, green apple acidity, floral and almond characters. Dalat Arabica coffee is not as thick as Sumatran coffees', but it is very easy to enjoy because of the tea-like body and good aroma.
"For robusta from Viet Nam, we use a local fine robusta that we love. As for how it compares to Indonesia's fine robusta coffee, I actually can't comment much because I have never roasted robusta from Indonesia. But The Viet Nam Fine Robusta coffee we use has floral characters, hazelnut, chocolate, light acidity (candy like), sweet and medium body, and best at medium roast. We usually use this bean for Ca Phe Sua Da (Traditional Vietnamese Coffee) with a little sweetened condensed milk for a perfect flavored coffee that reminds us of a chocolate tiramisu ice cream!"
On Becoming the Only Indonesian Roaster
Before our conversation was over, I asked if there was any challenges to be a roaster in a foreign country? "The challenge is the same everywhere. Nothing took much of my attention. We need to remember to roast with our heart and love whatever we do. As long as we are determined and persistent, whatever we do will become fruitful. Being an Indonesian in a foreign country bears the same feeling. There is, of course, a proud feeling because we are not losing to other countries. Our coffee, too, can compete and always make people pleasantly surprised by its complex flavors."
By Mustika Y.