Sehari untuk Kopi Harian
ANDRI NUR OESMAN
Untuk yang sudah mengenal kopi, tidak sedikit yang menjadikannya sebuah candu. Contohnya saya, tidak mungkin satu cangkir saja yang dihabiskan. Seperti yang dikisahkan dalam karya ini, minimal tiga cangkir, baru terpuaskan. Satu cangkir untuk menemani pagi, satu lagi di siang hari ketika berkarya, dan malam hari kala bercengkrama dalam hangatnya pertemanan.
Kini banyak kawan-kawan yang membuka ruang untuk menikmati kopi, yang artinya saatnya berpetualang; menikmati masing-masing kedai kopi dengan atmosfer ruang yang beragam, agar wawasan meluas seperti angkasa. Semoga karya yang terinspirasi kopi ini, turut menginspirasimu untuk berpetualang memperluas wawasan. Atau paling tidak, menginspirasimu untuk mengenal kopi agar tumbuh rasa sayang pada kopi dan Indonesia. Karena katanya: tak kenal maka tak sayang . Selamat menikmati!
—
For anyone who's familiar with coffee, many enjoy it as an addiction. For me, it's unlikely to take just one cup of coffee. as seen from these illustrations, I need a minimum of three cups of the drugs to be satisfied. First in the morning, then at noon to accompany work, then in the evening surrounded by a warmhearted gathering with friends.Now, plenty of these friends begin to open new spaces to enjoy coffee, which is a sign for an adventure to enjoy the myriad of atmospheres that will surprise the imagination. I hope this illustration will inspire you to venture out and widen your horizon. Or at least, inspire you to learn more about coffee, so you begin to feel the love for coffee and Indonesia blossoming within. As the saying goes: if you don't know it, you won't love it. Enjoy!
—
ANDRI NUR OESMAN tumbuh besar di Padang, Sumatera Barat, sejak dini sudah mencintai kegiatan gambar-menggambar dan film. Pada tahun 2010 pindah ke Depok, untuk menempuh program studi Arsitektur di Universitas Indonesia. Kini tinggal di Denpasar dan fokus mengembangkan diri pada media cat air dan aktif berkegiatan di Urban Sketchers Bali.
ANDRI NUR OESMAN grew up in Padang, West Sumatera, and has loved drawing and films since the early age. In 2010, he moved to Depok to study architecture in University of Indonesia. Now he lives in Denpasar and focuses on watercolor paintings at Urban Sketchers Bali.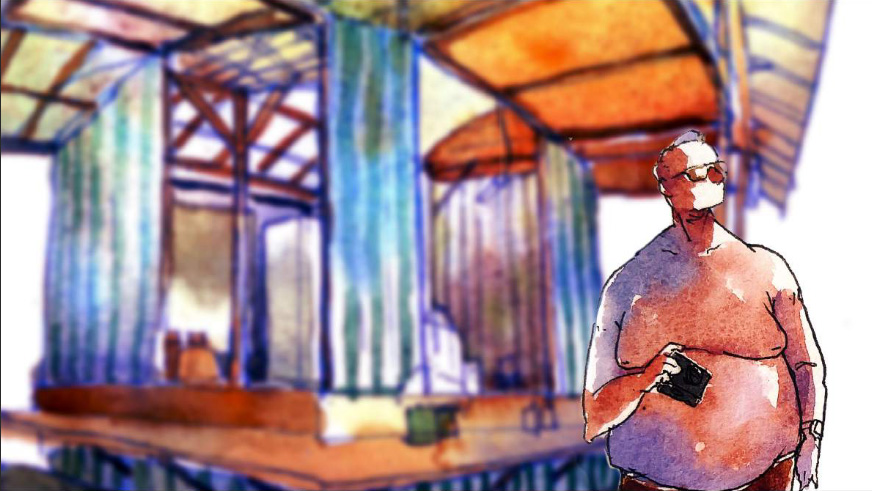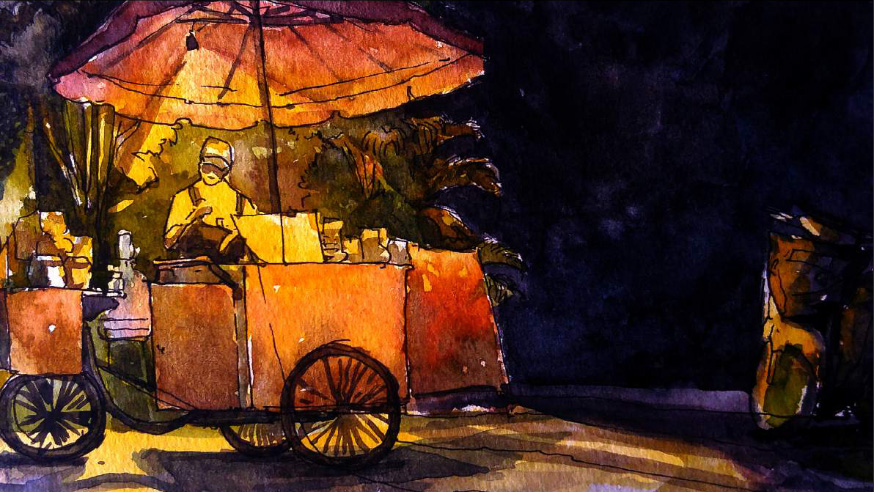 Read too, 5 Second Espresso.
LOCATIONS
Pantai Karang, Sanur.
Infinity Coffee, Sanur.
Pantai Matahari Terbit, Sanur.
Pantai Karang, Sanur.
Kopi Kiosk Pantai, Sanur.
25:PM, Legian.
Hayati Coffee, Yogyakarta.
Kuta Square, Kuta.
Kopi Kultur, Sanur.
Cangkruk Coffee Bike, Denpasar.