Bringing Coffee to Wonosobo's Detention Center
Baca dalam Bahasa Indonesia
In 2017, I met Pak Riyanto from Kerabat Ngopi for the first time and learned about his idea to bring coffee to a local detention center. At that time, I was just being a good listener.
Pak Riyanto had a calm and pleasant demeanor, which stood in contrast to his bold, unconventional ideas. With humility Pak Riyanto said that he believes anyone has the right for a better future, even though they made mistakes considered fatal by public. The detainees were often misjudged and considered deprived of future, but Pak Riyanto wanted to invite us to relook at this perspective.
Pak Riyanto said,
"Good deeds will always attract other good things. This is the principle that we upheld in the program. Initially, we only intended to hold a simple coffee sharing event with the prisoners. But once we shared our ideas to the detention center, a lot of positive responses come in. Many communities ended up participating, which means we have a great support to run this program even bigger."
This was the mission of Kerabat Ngopi, a small coffee community from Yogyakarta that run ​​Ngopi di Rutan (Coffee in the Detention Center).
Introducing the world of coffee and sharing brewing techniques to the detainees was not an easy idea to carry out. In addition to logistical issues and concepts that had to be organized, establishing common grounds with the detainees meant breaking down existing social perceptions. And that was not an easy thing.
However, it was Pak Riyanto's strong conviction that motivate and encourage various parties to collaborate and realize Ngopi di Rutan.
Ngopi di Rutan was first held in 2017 in Bantul with on-going results. Soon after the first event was held, the Head of the Detention Center prepared a room that could be managed as a café by the detainees. Coffee brewing training was also routinely held by Ngopi di Rutan workers.
Knowing that Ngopi di Rutan became a platform for future activities, Pak Riyanto wished to hold another event at the detention center in 2019. As the news about Ngopi di Rutan spread, Pak Riyanto was introduced to Pak Beni from Kopi Tetangga in Wonosobot. Incidentally, Pak Beni lived close to a detention center, so immediately, Pak Riyanto was introduced to the managers of the detention center.
Seeing the success of Ngopi in the Rutan in Bantul and how this event brought positive impact, Pak Riyanto received a green light from Pak Akbar, the Head of the Wonosobo Detention Center. Once they shared Ngopi di Rutan online and via print media, positive feedback generously flooded. Coffee shops offered their assistance and even coffee farmers and processors in Wonosobo and Temanggung were ready to help.
Now the question is: why coffee?
"Because the culture of ngopi in Indonesia is known to bridge social gaps and mediates social conversations, creating a social space that is harmonious, open, and familiar," said Riyanto. "But the main reason for holding Ngopi di Rutan is the opportunity to hold communal space between people in the detention center and the general public.
"By creating this open space, we hope to break the stigma that everyone in the prison is bad because not everyone is. There are so many aspects that eventually put someone in custody; sometimes life pressures and emotional pressures trigger violence. Being a fostered, detained citizen is a form of responsibility to what they did and is an opportunity for self-introspection.
"Behind the cells they are forced to relook at their motivations and make self-improvement.
"That's why it's also hopeful for these detainees to be in the prison. At these tumultuous time, moral and emotional support for the detentions are paramount. The biggest support they need is by giving them access and opportunities for them to rediscover themselves."
At these tumultuous time, moral and emotional support for the detentions are paramount. The biggest support they need is by giving them access and opportunities for them to rediscover themselves.
Coffee at the Wonosobo Detention Center was held on 25 September 2019. Taking place from 8 am to 1 pm, the program opened with remarks from the Wonosobo Detention Center and Ngopi Relatives, then continued with an explanation of how the program works and the events of the day.
Thirty volunteers were divided into four stands: the Tubruk Coffee stand, the Coffee Filter stand, and the two Espresso – Latte Art stands. Detainees were given the opportunity to choose the stand they wanted to visit, then received a queue number accordingly. At each stand, the volunteers then demonstrated their brewing equipment and served their drinks for free to the detainees. The detainees then could ask anything related to the brewing process at the respective stand.
Attended by around 120 detainees, their interaction with coffee showed high enthusiasm; their questions reflected their genuine curiosity about the chemistry behind coffee making. Not only that they're curious about coffee's endless flavors and types, but also about the function of paper filters, the process behind turning ordinary milk to latte art, and other technical questions.
To make the day more eventful and relaxed, local music performances were set to entertain both hosts and guests. Wonosobo Beatbox, Wonosobo Stand Up Comedy, Wonosobo SMAN 1 Band, and Pantomim from Sanggar Bagascara lit up the stage for the day.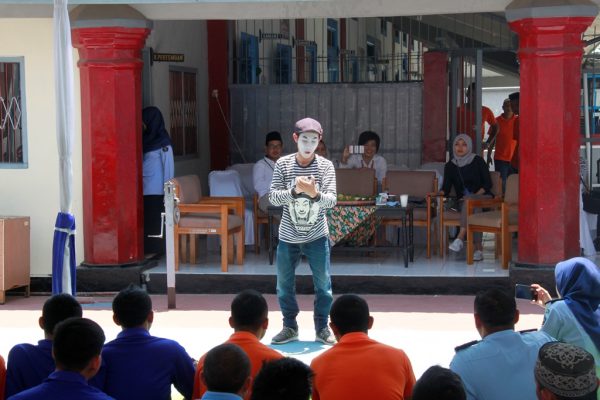 On one of the walls in the detention center, the Wonosobo Detention Center slogan was written—the slogan that reflected the vision of Ngopi di Rutan: KEMARIN AKU MELANGGAR HUKUM. HARI INI AKU BELAJAR AGAR AKU ESOK DAPAT IKUT MEMBANGUN (Yesterday, I violated the law. Today, I learn so that I can help build the future).
Seeing the enthusiasm from all parties, Pak Riyanto was hopeful that the detainees will see their lives in a more optimistic light when their sentence ends. They might become baristas or have their own businesses, either way it will make the Indonesian coffee scene more lively.
Similar to the Detention Center in Bantul, hopefully the Detention Center in Wonosobo will have an on-going educational activity, especially as a place for job trainings, so that the negative stigma surrounding these detainees can be proven wrong.
By Petto & Ben
Photos by Kerabat Ngopi